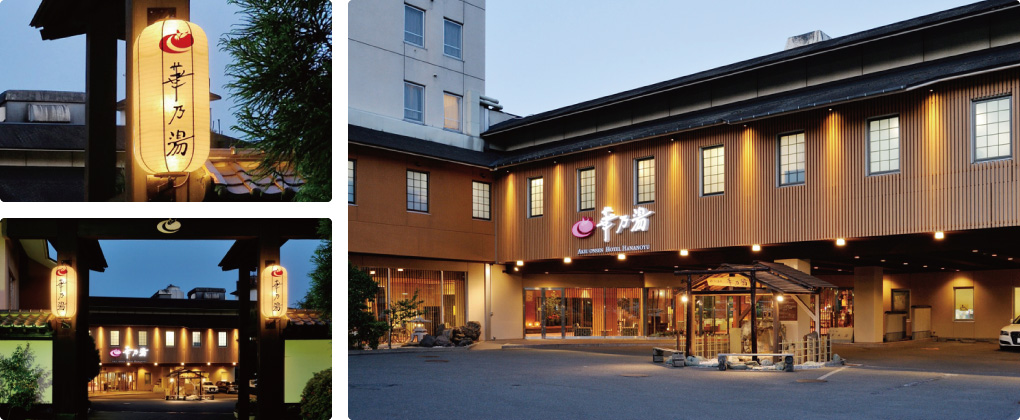 Akiu hot spring village is located approximately 30 minutes away from JR Sendai Station, the entrance to Tohoku, by car. Hotel Hana-no-Yu locates itself in the rich nature of Akiu from where visitors can enjoy the Rairaikyo Keikoku (gorge). We have four large baths for men and women, each bath with a different taste. We have a high reputation as "Yu-no-Yado (hotel of hot springs)" for we have, aside from the four large baths, reserved open-air baths (charging) and a foot bath. For meals, we serve approximately 50 kinds of buffet-style modern Japanese/Italian dishes, cooked by our chef with carefully-selected ingredients. As for rooms, we have eight types of rooms available that include rooms with reserved open-air baths and Western style rooms.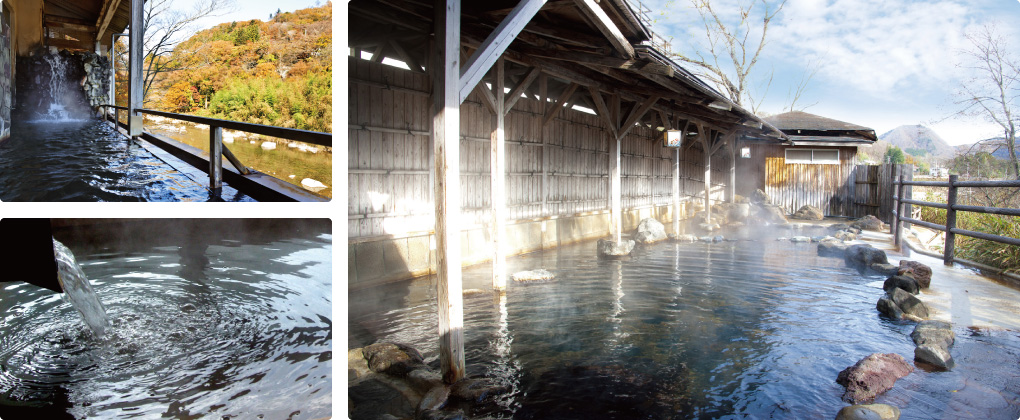 The power of hot springs that wrap you around
Our headspring is often referred to as "Kami-no-Yu (god's hot spring)" for its rich amount of hot springs and efficacies.Please enjoy our high-quality hot springs that are highly recommended by our hotel owner, who is also a hot spring sommelier, and the relaxing efficacy of our open-air baths.
[Spring Quality]
Sodium / Calcium / Chloride spring

[Efficacies]
Joint pain / cuts / sprains / bad blood circulation / chronic women's disease

[Amount of hot springs]
130 litters per minute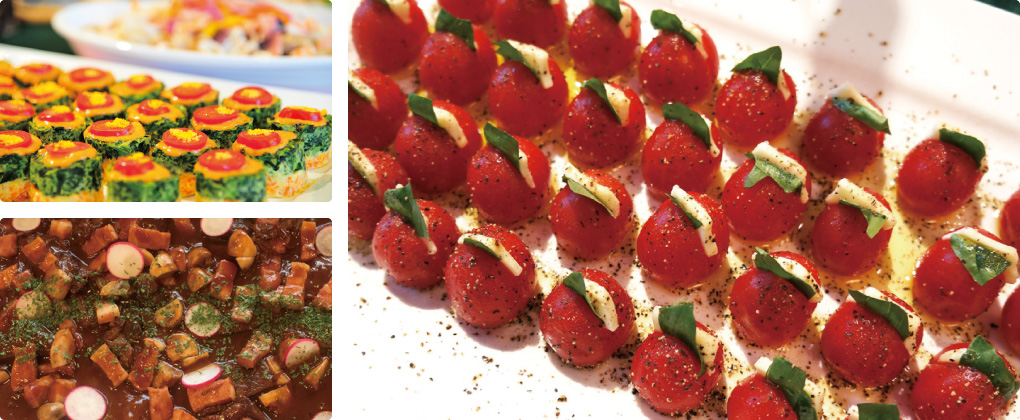 Our motto
A buffet-style modern Japanese/Italian dishes cooked by our chef with fresh ingredients based on the theme of beauty and health. Please enjoy our wide variety of beautiful dishes made with over a hundred kinds of carefully-selected ingredients.
Blessing dinning

Hana-no-Yu aims at using 100% domestic vegetables grown in certain areas and fresh, non-chemical vegetables from our contracted farms. Please enjoy various kinds of Italian, Japanese, and French dishes that include steak, fritters cooked on the spot and a wide variety of fruits in their best seasons.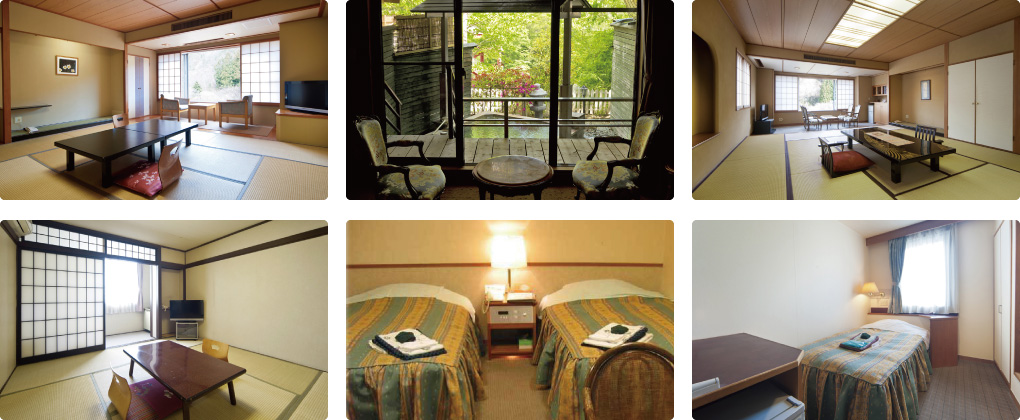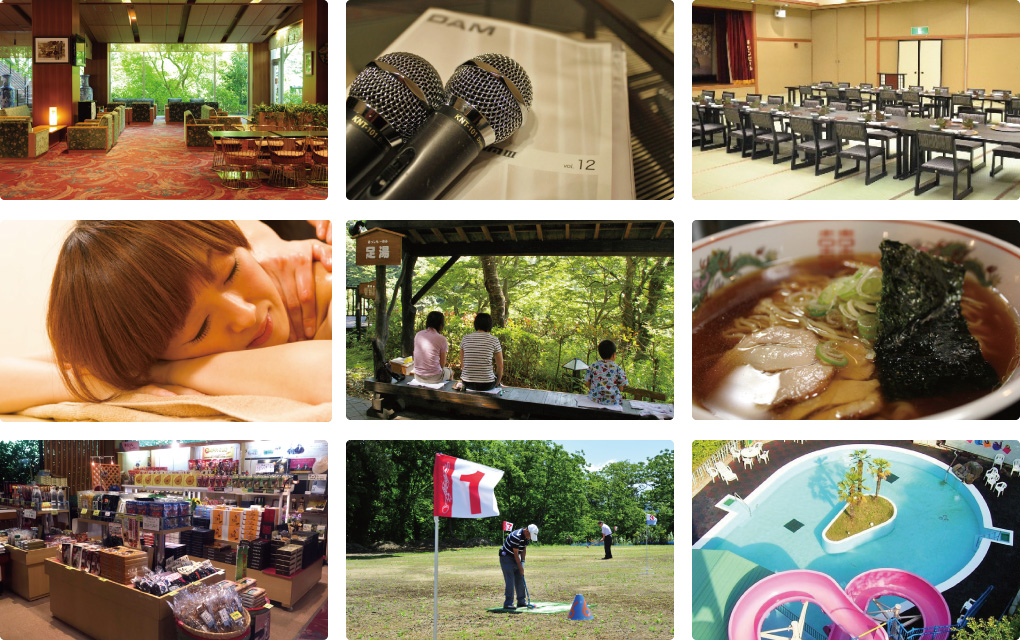 Rairaikyo
(about 5 minutes on foot to the entrance)

Rairaikyo is a gorge made of rocks with peculiar shapes, which were eroded by Natori River that flows in front of Hana-no-Yu, located at the entrance of Akiu hot spring village. For about 1km from the bridge, you can enjoy the sight of all kinds of rocks with different shapes along the promenade.

Akiu Otaki
(about 25 minutes by car)

Akiu Otaki falls from 55 meters high above the ground with the width of 6 meters at the upper stream of Natori River, which flows within Zao National Park and Prefectural Natural Park Futakuchi Kyokoku (gorge). It is designated as a national beauty spot and counted as one of the 100 best waterfalls in Japan.

Sendai Castle Ruins
(about 25 minutes by car)

A sightseeing spot with an archives center and restaurants located after Aoba Castle Ruins, widely known for its establishment by Date Masamune.
From the ruins, you can have a great view of downtown Sendai.

Michinoku Park
(about 20 minutes by car)

The biggest national park in Tohoku with seasonal flowers where visitors can enjoy camping or walk their dogs, etc…

From Sendai Station

[Free shuttle bus]
Sendai Station East Entrance 11:00 / 15:00
Hotel Hana-no-Yu 10:00 / 14:00
Reservation necessary. No service available when seats are full.

[By car]
Approximately 25 minutes via Route 48.
Approximately 35 minutes via Route 286.

[Public Bus]
Get off at Miyagi Kotsu Bus "Rairaikyo",
and about 3 minutes on foot from the bus stop.
*Approximately 40-60 minutes by Miyagi Kotsu
"To Akiu Onsen" that departs from Sendai Station
Please note bus stops for the free pick-up bus and public bus are different.
Miyagi Kotsu Bus Schedule (Japanese)

*Sendai Seibu Liner Bus also connects Sendai Station
and Akiu hot spring village.
Sendai Seibu Liner Bus Schedule (Japanese)
Air Temperature
Jan.
Feb.
Mar.
Apr.
May
Jun.
Jul.
Aug.
Sept.
Oct.
Nov.
Dec.
Highest Temperature
41.5℉
(5.3℃)
42.6℉
(5.9℃)
48.6℉
(9.2℃)
59.0℉
(15.0℃)
66.9℉
(19.4℃)
72.1℉
(22.3℃)
78.3℉
(25.7℃)
82.2℉
(27.9℃)
75.9℉
(24.4℃)
66.9℉
(19.4℃)
56.7℉
(13.7℃)
47.1℉
(8.4℃)
Average Temperature
34.9℉
(1.6℃)
35.6℉
(2.0℃)
40.82℉
(4.9℃)
50.5℉
(10.3℃)
59℉
(15.0℃)
65.3℉
(18.5℃)
72.0℉
(22.2℃)
75.6℉
(24.2℃)
69.3℉
(20.7℃)
59.4℉
(15.2℃)
48.9℉
(9.4℃)
40.1℉
(4.5℃)
Lowest Temperature
28.9℉
(-1.7℃)
29.3℉
(-1.5℃)
33.6℉
(0.9℃)
43.0℉
(6.1℃)
52.0℉
(11.1℃)
60.0℉
(15.5℃)
67.1℉
(19.5℃)
70.5℉
(21.4℃)
63.7℉
(17.6℃)
52.1℉
(11.2℃)
41.4℉
(5.2℃)
33.6℉
(0.9℃)
Air Temperature
Jan.
Feb.
Mar.
Highest Temperature
41.5℉
(5.3℃)
42.6℉
(5.9℃)
48.6℉
(9.2℃)
Average Temperature
34.9℉
(1.6℃)
35.6℉
(2.0℃)
40.82℉
(4.9℃)
Lowest Temperature
28.9℉
(-1.7℃)
29.3℉
(-1.5℃)
33.6℉
(0.9℃)
Air Temperature
Apr.
May
Jun.
Highest Temperature
59.0℉
(15.0℃)
66.9℉
(19.4℃)
72.1℉
(22.3℃)
Average Temperature
50.5℉
(10.3℃)
59℉
(15.0℃)
65.3℉
(18.5℃)
Lowest Temperature
43.0℉
(6.1℃)
52.0℉
(11.1℃)
60.0℉
(15.5℃)
Air Temperature
Jul.
Aug.
Sept.
Highest Temperature
78.3℉
(25.7℃)
82.2℉
(27.9℃)
75.9℉
(24.4℃)
Average Temperature
72.0℉
(22.2℃)
75.6℉
(24.2℃)
69.3℉
(20.7℃)
Lowest Temperature
67.1℉
(19.5℃)
70.5℉
(21.4℃)
63.7℉
(17.6℃)
Air Temperature
Oct.
Nov.
Dec.
Highest Temperature
66.9℉
(19.4℃)
56.7℉
(13.7℃)
47.1℉
(8.4℃)
Average Temperature
59.4℉
(15.2℃)
48.9℉
(9.4℃)
40.1℉
(4.5℃)
Lowest Temperature
52.1℉
(11.2℃)
41.4℉
(5.2℃)
33.6℉
(0.9℃)